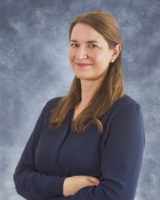 Senior Program Coordinator
kstiegler@albany.edu
Kristen Stiegler accepted her position as Senior Program Coordinator at CHWS in 2019. Among other activities, Kristen Stiegler coordinates the DSRIP survey process, coordinates and compiles the tracking report, and oversees the New York work and reports. She specializes in Project management, program coordination, and stakeholder management.
Before returning to graduate school, for seven years Kristen worked in community-based, residential facilities for people with developmental disabilities or mental health challenges as a Direct Support Professional and then as a Manager. Among the many jobs since graduate school, she has worked as a Program Analyst with Oregon Health Authority, Office of Environmental Public Health; as a Service Intake Specialist with Sedgwick County for people with developmental disabilities seeking assistance under the Kansas state intellectual/disability waiver; and as a Research Analyst in the Office of Planning and Research at Hudson Valley Community College in Troy, NY.
Ms. Stiegler has a Bachelor of Science in Environmental Studies from the University of Oregon and a Master of Public Administration, with a focus on project management and natural resource administration from Portland State University (Oregon). She is currently enrolled in the public health online graduate certificate program at UAlbany.