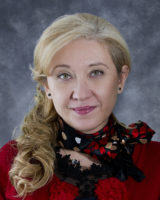 Project Director
ssurdu@albany.edu
Dr. Surdu currently serves as a project director at CHWS, where she is involved in comprehensive studies of oral health in various states, including the evaluation of oral health needs, delivery of oral health services, and access and utilization of oral health services.
With a background as a medical doctor and 15 years of experience in environmental health sciences in the U.S. and internationally, Dr. Surdu has gained advanced knowledge and research expertise in the field of public health and research methodologies. She has contributed to the development and implementation of epidemiologic studies, as an investigator and in leadership positions, to a variety of local and regional programs supported by the U.S. National Institute of Health (NIH), the U.S. Environmental Protection Agency (EPA), the European Union (EU), the World Health Organization (WHO), and other organizations. Dr. Surdu has been responsible for designing, planning and overseeing collaborative research and training activities and fostering multidisciplinary networking among researchers and health and environmental professionals from various organizations worldwide. In addition, she has successfully collaborated with other scientists on the writing of scientific documents, reports, and manuscripts, and given presentations to disseminate scientific information, methodologies, and research findings.
Dr. Surdu graduated from the University of Medicine and Pharmacy in Romania and earned her PhD in Epidemiology from the State University of New York.