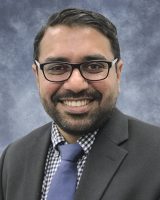 Research Scientist
tfernando@albany.edu
Theekshana Fernando is a researcher at the Center for Health Workforce Studies at the School of Public Health, University at Albany. His area of primary research is the oral health workforce and its impact on expanded access to cost-effective oral health services for underserved populations. His other research interests include health equity, maternal and child health, immigrant and refugee health, health policy, and strategic planning.
Theekshana is a physician, receiving his medical training at the Institute of Medicine at the Tribhuvan University in Kathmandu, Nepal. It was his experiences as a clinician providing care to vulnerable populations that informed his decision to pursue public health. He is also currently pursuing his Doctor of Public Health (DrPH) at the University at Albany.
His background as a physician allows Mr. Fernando to bring a unique perspective that informs his work. His experiences in clinical medicine and/or public health in England, Nepal, New Zealand, Sri Lanka, and the United States, together with decades of travel, have shown him the importance of being a lifelong learner with a strong sense of cultural competency.