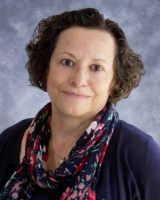 Center Director
jmoore@albany.edu
Bringing over a decade of experience as a health workforce researcher, Dr. Moore has been the director of CHWS since 2004. As director, Dr. Moore is responsible for administrative aspects and participates in the preparation and review of all CHWS research projects and reports, ensuring their policy relevance. She also plays a key advisory role for OHWRC and HWTAC, their activities, and the outcomes of their work.
During her time as director, Dr. Moore has provided technical assistance on health workforce data collection and analysis to many states, specifically New York, New Jersey and New Mexico, among others, and to national professional associations, including associations representing dental hygienists, registered nurses, social workers, and psychologists.
Dr. Moore has served as principal investigator for more than 35 health workforce research studies and authored nearly 70 publications, including peer-reviewed journal articles and reports.